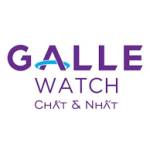 Một phong cách thiết kế tối giản mang đến sự sang trọng chính là những gì mà phái mạnh hướng đến.

Xem thêm: https://audiomack.com/donghogalle

Trong đó, Longines L4.774.4.52.6 là mẫu đồng hồ dành cho nam có thiết kế tối giản mà Galle muốn chia sẻ. Sở hữu mặt số tròn truyền thống phối hợp cùng cọc chỉ giờ và bộ ba kim đơn giản màu trắng nổi bật trên nền mặt số màu đen. Sự kết hợp đen và trắng pha trộn dễ dàng phối trang phục, đi chơi, đi làm đều phù hợp mà nam giới ưa chuộng. Đồng thời, để bảo vệ bộ máy automatic bền bỉ thì các nhà chế tác đã sử dụng mặt kính sapphire chịu va đập và chống trầy hiệu quả. Khung viền được làm từ thép không gỉ, chống oxi hoá cao. Ngoài ra, còn có thêm tính năng lịch ngày hỗ trợ quản lý thời gian.
Please log in to like,share and comment !