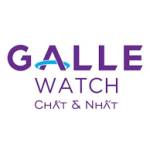 Nằm trong bộ sưu tập Casio Edifice chiếc đồng hồ Casio EFR-526D-1AVUDF là mẫu dành cho phái mạnh yêu phong cách chín chắn, mạnh mẽ mà Galle Watch muốn chia sẻ.

Xem thêm: https://www.mixcloud.com/donghochinhhanggalle/

Được chế tác từ mặt kính cứng (Mineral Crystal) chịu va đập tốt. Khung viền làm từ thép không gỉ và bộ máy vận hành bền bỉ, chính xác được khẳng định chắc nịch về chất lượng Nhật tại vị trí 6 giờ in dòng chữ Japan Movt. Bên cạnh đó, còn hỗ trợ chỉ số chống nước đến 10ATM, bạn có thể tham gia bất kỳ hoạt động nào thường ngày như: đi dưới mưa, bơi lội,... Hay quan sát giờ trong điều kiện thiếu sáng nhờ kim phủ dạ quang. Ngoài ra, còn trang bị tính năng Chronograph hỗ trợ bấm giờ, phút hữu ích trong các hoạt động thể thao.
Please log in to like,share and comment !