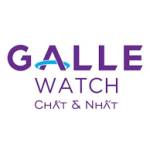 Ngoài đồng hồ dây da, dây kim loại, bạn muốn tăng thêm bộ sưu tập đồng hồ của mình với mẫu dây đeo nano (vải).

Xem thêm: https://www.tumblr.com/gallewatch

Galle Watch chia sẻ đến bạn đồng hồ Seiko SSB401P1 xuất xứ Nhật. Sở hữu mặt số có đường kính 41mm, bề dày 12.3mm dành cho nam giới. Được tính hợp tính năng Chronograph tạo nên chiếc đồng hồ kiểu dáng 6 kim mạnh mẽ, năng động. Đồng thời, sử dụng dây vải tông màu xám cuốn hút và ôm sát tay, mềm mại tạo cảm giác thoải mái khi đeo. Bên trong đồng hồ Seiko SSB401P1 là bộ máy Quartz (pin) chính xác, bền bỉ. Bên ngoài vỏ đồng hồ được trang bị kính Hardlex Crystal (kính cứng) chịu va đập tốt, khung viền được làm từ thép không gỉ và trang bị khả năng chống nước lên đến 10ATM.
Please log in to like,share and comment !