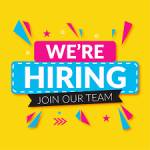 "We are hiring at Evision for MNC's company"
Positions up for grab are;
1. Civil Engineer.
2. Automobile Engineer.
3. Electrical Engineer.
4. Mechanical Engineer.

*Immediate Joining will be preferred first.

Interested candidates can reach out to directly over WhatsApp: 9811722065
New Batch Starting;
Apply and Join Online: https://lnkd.in/g8s-3ZE
Check Our Success Story: - bit.ly/3uUGPtV
For Joining and Registration
Dial: 9811722065, 9811722022
Please log in to like,share and comment !