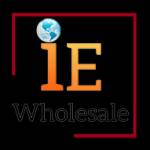 Top Shine Seraph Ultra 5% Disposable 6500 Puffs 10pk

The Top Shine Seraph Ultra Disposable E-Cig is a thin and portable vape that offers up to 6500 puffs and is even rechargeable. It comes pre-filled with 5% nicotine salt e-juice, features a draw-activation firing mechanism, and comes in an array of different delicious flavors to choose from.

Natural Flavors, Premium Quality Vape.

Puff Count: 6500 Puffs

Juice Capacity: 14 mL

Nicotine Strength: 5% Tobacco-Free Nicotine

Battery: 400 mAh Optimal performance supercharge Battery

Charge Port: USB-C

Coil Type: Mesh Coil

Heating Technology: 2.0 Ultra Smooth

Draw-activation firing mechanism

Package Contents:

10 X Top Shine Seraph Ultra Disposable

https://www.iewholesale.online..../top-shine-seraph-ul
Please log in to like,share and comment !