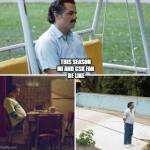 nrp says:
03/16/2018 at eleven:12 am
dennis;
10-15¢ a gallon, dude, your showing your age hahahaha

oddly sufficient, here in the "real" world, you could still buy kero from a pump at "a few" stations for round $three. 50 a gallon. Of direction ya always get the hairy eye-ball while you fill a 55-gallon drum, but ohhhhh well. Plus i see plenty of stations putting in "non-ethanol" pumps for round $three. 75 a gallon. https://gopalaexports.politics.....blog/2022/04/13/lar
Please log in to like,share and comment !